Welcome to All Day Dog Adventures
Dog Training in Columbia Falls, Kalispell, Whitefish and the surrounding Flathead Valley.
WINTER 2023 Update:
We are heading into our WINTER schedule.  Please check out our class lists.
We are excited to offer:
Group classes
Puppy training
Place/settle workshoops
Loose leash walking workshops
Trick Training 101
Private training
Behavior consultations
We are seeing an unprecedented demand for fear free, reward based dog training!  If you need help with your dog or your new addition to your family please get in touch as soon as possible to secure your training spot with us.
We recommend that if you are planning on getting a new 4 legged addition to your family to contact us straight away to discuss our training options for you!
We try and get back to everyone as quickly as we can- always feel free to email us too at info@alldaydogadventures.com
Explore your dogs full potential!  Any training should be fun and effective.  We utilize different force free reward based training techniques exploring what works best for you and your dog.  Whether you decide to do Private Training or one of our classes- which are held in different locations including Whitefish, Kalispell and Columbia Falls we are here to hekp
Come and join us on your dog training journey.  We work together with you and your dog to create a strong bond.  We believe that we have a unique approach to dog training that focuses not just on physical training but also includes mental enrichment skills such as scent work!
Train using different training methods and techniques with your dog. All Day Dog Adventures provides dog training in all areas including obedience, agility, scent and search workshops, pet therapy course and in-house training using positive reward based training methods. Training should be enjoyable and form a bond between you and your dog.
We offer training classes for general obedience for all ages of dogs- including our Puppy classes.  Our classes are fun and interactive.  One of our main focuses is on training and learning through enjoyment.  We switch between obedience work and fun agility/enrichment activites to keep your dogs motivated!
We also offer Training and Behavior Walking Packages- we pick your dog up and train with them!  No hassle and all the best training.
We love working with all dog breeds and look forward to helping you and your dog!
Contact us to reserve your space on one of our classes!
Let us guide you on your journey! At All Day Dog Adventures we will guide you through your training journey with your four legged companion.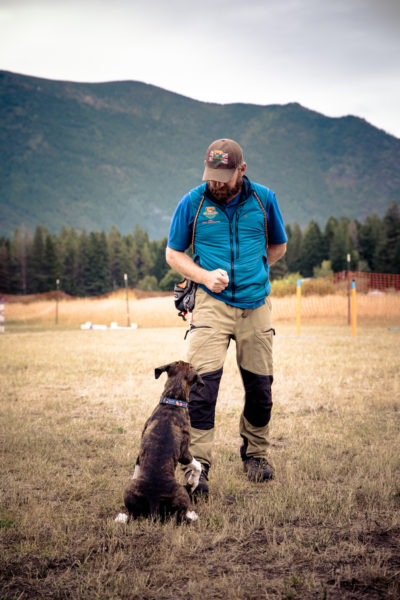 Our methods are force free using positive reward based training.  We introduce you to the techniques and methods that work best for you and your dog.  Dogs and their owners are individuals and as such we adapt our training methods so that they work for you, guiding you along your training journey.
We offer a variety of services to make sure that you get the best experience while training your dog.
Contact us to find out about the latest classes and courses that are running!
Drop us a line to discuss our services
Now taking bookings for our Monday Young Puppy classes & Saturday Group Dog training classes! Now training inside for the Winter (training arena located conveniently between Whitefish & Columbia Falls.